I am a Texas State-Licensed Therapist Providing ESA and Service Dog Support Letters for Texas 
As a Texas LMHP, Ph.D., and LCSW, I legally classify Service Dogs and (ESA) Emotional Support Animals in Texas. I provide an extensive telehealth evaluation, letter, complete all forms, and, as needed, communicate with landlords for the year as an LMHP, in Austin, Houston, Dallas, San Antonio, and the rest of Texas. I help people who seek out an "ESA doctor" or "ESA therapist" within the state, helping them classify their dogs, cats, and other species as emotional support animals.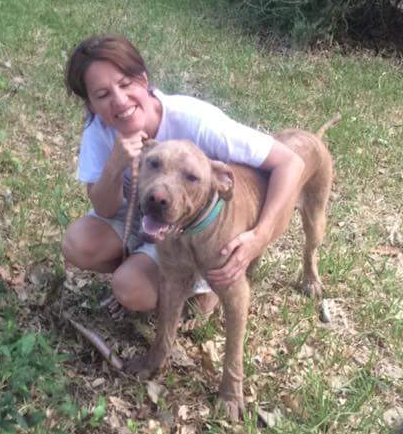 Dr. Miki Tesh, PhD, LCSW
My session fee ($78) includes:
Telehealth intake, interview, observations, counseling, and psychometric measurements for a Texas ESA letter or a Texas Service Dog letter
Help with more than one animal (I do not charge extra for more than one animal)
Texas ESA letter or Service Dog letter
Any extra forms on contact needed for your assistance animal or service animal
Forms needed during the year (in case you move to a different location).
Education and advocacy for your assistant animals or service animals
If for any reason you are not a good fit for us working together, I will be sure to refer you to other resources so you can obtain services. I will not charge when I am unable to help my clients.
What is the difference between a Psychiatric Service Dog and an Emotional Support Animal (AKA assistance animal or ESA)?
Service Dogs
A psychiatric service dog is specifically trained, by yourself or a professional, to complete a task, or attend to a need related to a mental health disability. The dog might respond to a command, or sense a need (such as a panic attack), and then perform an action (such as nuzzling, laying on the person, etc.). PSA's or psychiatric service dogs are allowed to accompany you to most public places, such as stores, planes, gyms, etc. Your rights to have a psychiatric service dog in Texas are federally protected by the ADA (Americans for Disability Act), HUD (Housing and Urban Development), and the FHA (Fair Housing Act).
Emotional Support Animals
On the other hand, an ESA or Assistance Animal does not have to be specially trained, can be any type of animal (cat, bird…), and a person can have more than one emotional support animal. An ESA helps improve a person's mental health by living with and accompanying their person as a comfort animal. While a service dog can go to public places, an ESA might not necessarily be allowed into public places (like stores or gyms) unless the owner/manager of the location grants permission. Your rights to have an emotional support animal in Texas are federally protected by the ADA (Americans for Disability Act), HUD (Housing and Urban Development), and the FHA (Fair Housing Act).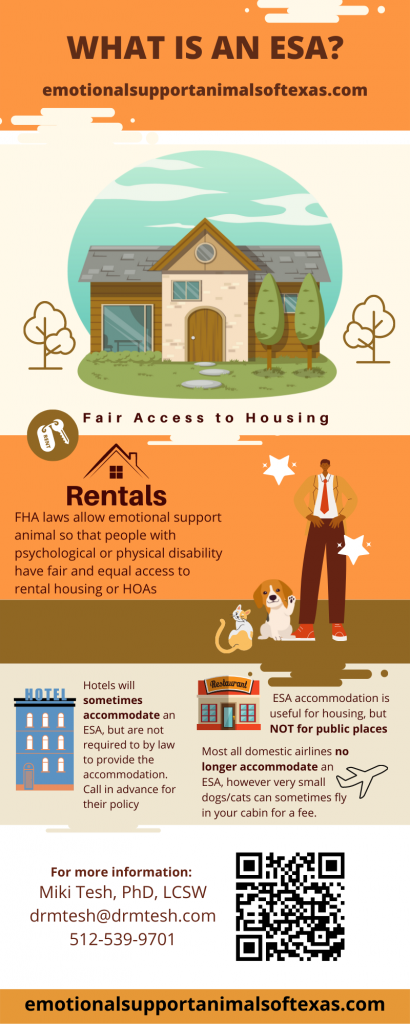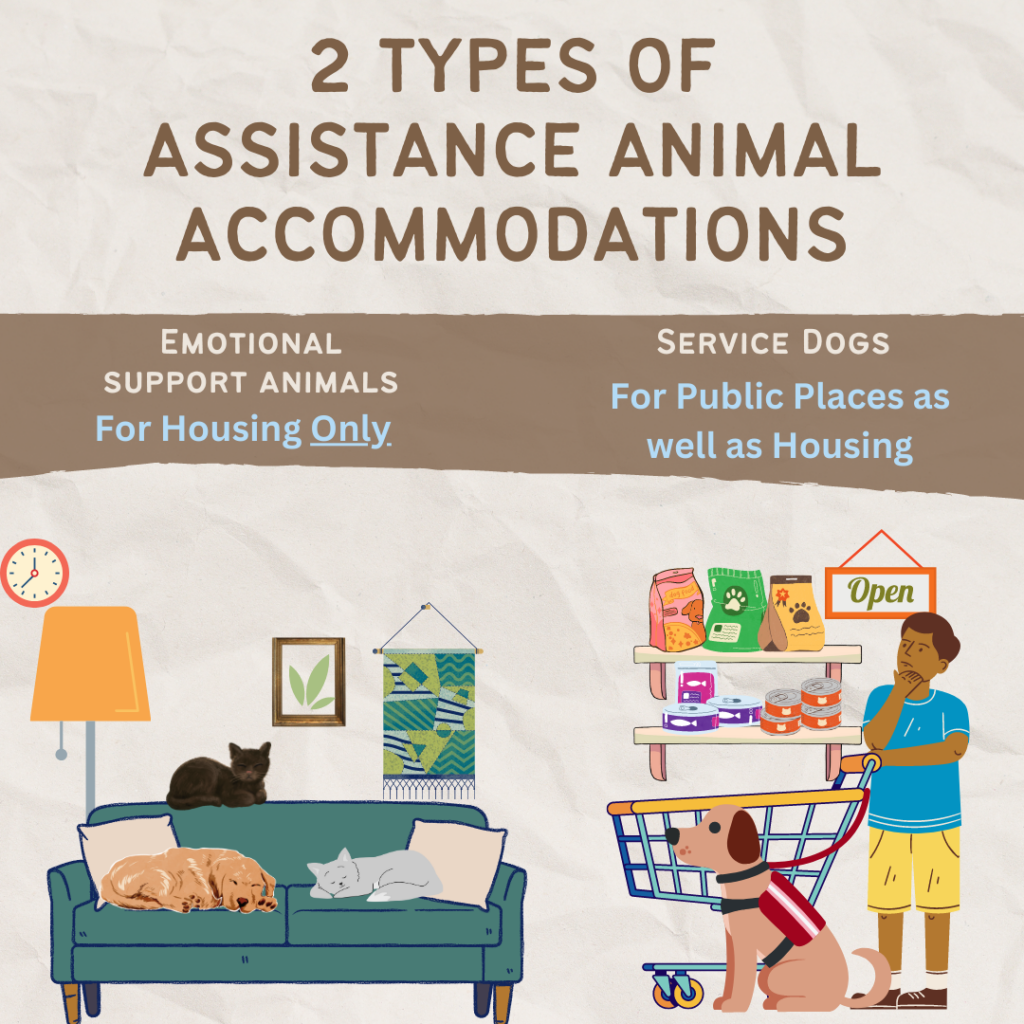 How is an ESA Letter or Service Dog Letter helpful?
HOUSING
Emotional Support Animal letters are primarily designed to prevent discrimination when bringing an animal home to a rental lease. FHA, HUD, DOJ, and the ADA help guide rental companies and managers on how to comply with the law.
PUBLIC PLACES
Public places are not under the same FHA laws as housing, therefore they do not have to accommodate an emotional support animal. You would have to ask if it's okay in advance. Service dogs, on the other hand, are typically allowed to accompany you to public places according to ADA.
HOTELS
It is at the discretion of a Hotel on accepting emotional support animals. Some honor the letter, and some will not. It is best to call in advance to check on the policy. Service dogs, however, should be allowed to stay at hotels under ADA rules.
FLYING
Most domestic airlines will allow one very small cat or dog for a fee, however, many domestic airlines do not honor emotional support animal accommodations. There are a few private airlines such as JSX.com that accommodate an ESA. There are some international airlines that also accept emotional support animals. Service dogs, however, should be allowed to accompany you. Always check with the airline in advance.
How do I know if an ESA service is legitimate?
Often my clients will find me after trying to obtain an ESA letter or PSA letter from an online service that sells "ESA tag," "ESA ID," "ESA vest," "ESA certification," or an "ESA registration." These types of items and documents are NOT legal documents that Texas landlords and apartment complexes are required to honor according to HUD, the ADA, and the FHA. Other problems that can occur when an ESA letter is not written from a currently licensed healthcare provider for your state, or if you never speak with the licensed healthcare provider such as a doctor or mental health therapist. If you discover that it is difficult to reach the provider at all for further follow-up, then you may run into problems when you need further assistance. Often, I stay in contact with my clients and will talk to them multiple times to help facilitate the entire process of evaluation, counseling, recommendations, references, and facilitation. Furthermore, if a healthcare provider is not located in Texas, a landlord may deny the ESA accommodation request. With some of these sites, you risk paying money for items that are useless. What landlords are required to honor is an accommodation letter from an active Texas licensed mental health provider, practicing in Texas, who is available to reach out to for verification of the accommodation letter.
"There are individuals and organizations that sell service animal certification or registration documents online. These documents do not convey any rights under the ADA and the Department of Justice does not recognize them as proof that the dog is a service animal."

– The Americans with Disabilities Act (ADA)
Fortunately, I am a Texas LMHP (licensed mental health practitioner) who specializes in helping those with mental health concerns obtain fair access to housing with their ESA or Service Dog. I have been assisting clients with their assistance and service animal needs since 2015, and have been successful in understanding the medical, mental health, disability, and legal process for facilitating my clients' fair access to housing with a Texas ESA or Service Animal. I receive referrals from universities, other healthcare providers, and members of the community because I help individuals in Texas, and have been practicing as an LMHP in Texas since 2008 (I have been practicing as an LMHP since 1998). Furthermore, I am easy to get a hold of here, and I respond quickly. I also value equal access for everyone and try to keep my fees affordable so as to be obtainable for most people. For this reason, I do not sell unnecessary items such as registrations, certifications, Service Animal vests, or Assistant Animal IDs, nor do I waste a person's time and money by providing ESA letters to someone who lives outside of Texas, or who I feel wouldn't qualify for an ESA/PSA. I also do not charge extra when a client has more than one animal, nor do I charge extra for verification forms that an apartment might require. I also do not charge extra for basic questions a client might have. The cost is a flat $78 session fee.
I can help you and your ESA live a happy life together in Texas

You can verify me through Psychology Today or Linkedin